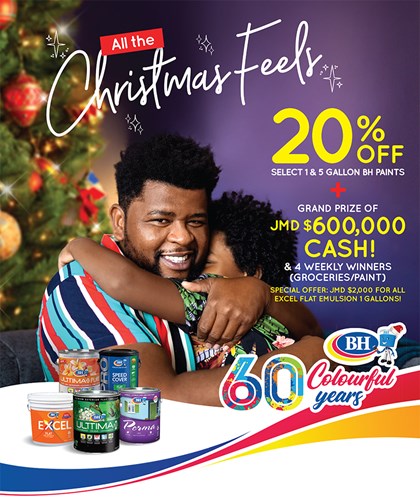 Customers must purchase a minimum of one (1) gallon of the eligible/featured B-H decorative paint at any authorized/participating paint dealer or B-H retail store.
Eligible products are Ulttima Plus Pure Flat & Eggshell, Ulttima Plus Flat, Satin Emulsions & Gloss Enamels; Perma Flat, Satin Emulsion & Gloss Enamel; Pro-Speed Flat, Eggshell & Gloss Emulsion; Excel Flat Emulsion whether the purchase is in 1-gallon or 5-gallon.
Trade Customers (Painters, Contractors, Interior Decorators, Maintenance etc.) must purchase a minimum of 5 gallons of any BH brand paint at any of our nine (9) BH Colourcenters.
The promotion runs from October 18th, 2021 until 11:59 pm EST December 29th, 2021.
Winners must present a valid government I.D. (Driver's license, National I.D. or Passport) and proof of purchase when redeeming prize.
All winners will be contacted within 24 hours of the draw via telephone. Three (3) calls will be made within 30 minutes segment during Miss Kitty. Failure to answer will result in forfeiture of the prize and defer to the backup entries in the order they were drawn.
Unclaimed prizes thirty (30) days after promotion ends will be retained by B-H Paints.
All participants must be 18 years of age and older.