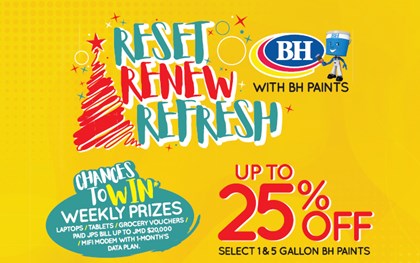 Customers must purchase a minimum of one (1) gallon of the eligible/featured B-H decorative paint at any authorized/participating paint dealer or B-H retail store.

Eligible products are Ulttima Plus Flat, Satin Emulsions & Gloss Enamels; Perma Flat, Satin Emulsion & Gloss Enamel; Pro-Speed Flat, Eggshell & Gloss Emulsion; Excel Flat & Gloss Enamel; Porch and Patio; Roof Compound; whether the purchase is in 1-gallon or 5-gallon.
Electronically generated code will be issued at point of purchase. Codes will be text in for a chance to win in the weekly and grand prize draw. Each code can only be used once.
There will be twelve weekly draws and one grand prize draw.