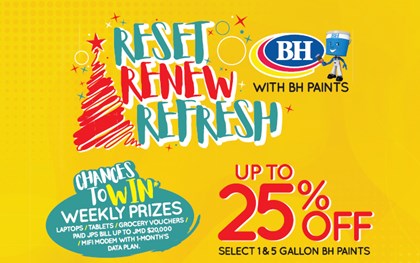 B-H Paints Promotion Terms and Conditions
Customers must purchase a minimum of one (1) gallon of the eligible/featured B-H decorative paint at any authorized/participating paint dealer or B-H retail store.

Eligible products are Ulttima Plus Flat, Satin Emulsions & Gloss Enamels; Perma Flat, Satin Emulsion & Gloss Enamel; Pro-Speed Flat, Eggshell & Gloss Emulsion; Excel Flat & Gloss Enamel; Porch and Patio; Roof Compound; whether the purchase is in 1-gallon or 5-gallon.
Electronically generated code will be issued at point of purchase. Codes will be text in for a chance to win in the weekly and grand prize draw. Each code can only be used once.
There will be twelve weekly draws and one grand prize draw. Dates are as follows:
October 15th – Qualify entries October 5th – October 14th, 2020
October 22nd – Qualify entries October 15th – October 21st, 2020
October 29th – Qualify entries October 22nd – October 28th, 2020
November 5th – Qualify entries October 29th -November 4th, 2020
November 12th – Qualify entries November 5th – November 11th, 2020
November 19th – Qualify entries November 12th – November 18th, 2020
November 26th – Qualify entries November 19th – November 25th, 2020
December 3rd - Qualify entries November 26th – December 2nd, 2020
December 10th- Qualify entries December 3rd -December 9th, 2020
December 17th - Qualify entries December 10th – December 16th, 2020
December 24th - Qualify entries December 17th - December 23rd, 2020
December 31st - Qualify entries December 24th – December 30th, 2020
December 31st Grand Prize Draw- Qualify all entries up to December 30th, 2020 except for past winners.
The promotion runs from October 5th, 2020 until 11:59 pm EST December 30th, 2020.
Winners must present a valid government I.D. (Driver's license, National I.D. or Passport) and proof of purchase when redeeming prize.
All winners will be contacted within 24 hours of the draw via telephone. Three (3) calls will be made within 30 minutes segment during Miss Kitty. Failure to answer will result in forfeiture of the prize and defer to the backup entries in the order they were drawn.
Unclaimed prizes thirty (30) days after promotion ends will be retained by B-H Paints.
All participants must be 18 years of age and older.